January 10, 2018
App Tamer 2.3.4 adds an option to quit idle apps and controls the CPU usage of complex applications more accurately.
This version is a free update for App Tamer 2 users. Please note that if you still have App Tamer 1.x, this is a $7.95 paid upgrade if you purchased version 1.x before July 1, 2013.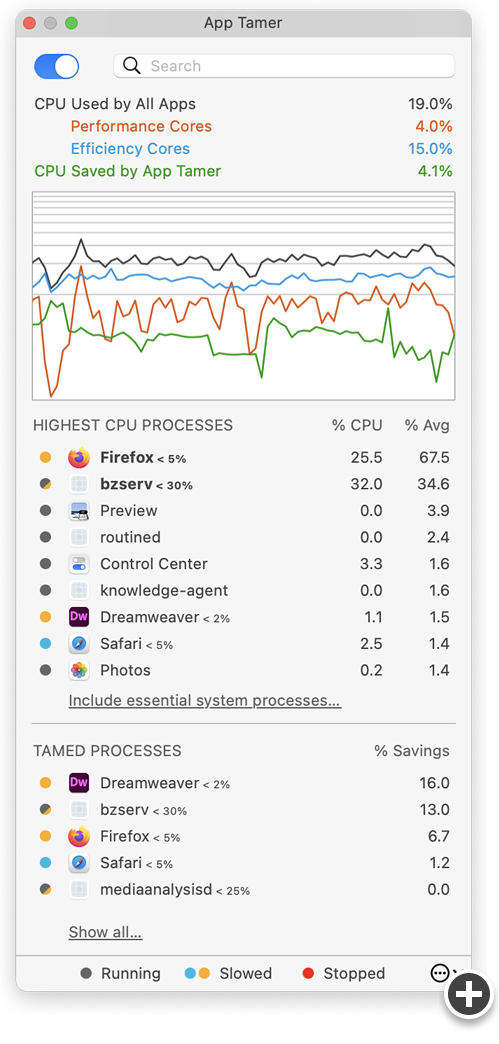 What's new in App Tamer 2.3.4
App Tamer can now be set to quit applications after they've been idle in the background for a certain amount of time. Note that if the application pops up alerts about unsaved changes, etc, those alerts will still pop up. App Tamer doesn't auto-OK them or otherwise intervene.
There were situations in which App Tamer's management of CPU usage could fail for apps that have multiple sub-processes, like web browsers and Spotlight. This issue has been fixed, so managed apps should stick more closely to the CPU usage you've set for them.
When you turn on Time Machine Acceleration, App Tamer checks to see if Time Machine is also configured to be slowed to a particular CPU limit and will put up an alert to let you know that these settings are at cross purposes.
App Tamer's own CPU usage has been reduced.
Download Links



App Tamer 2.3.4
(a server will be selected for you automatically)
If you have trouble contacting our servers, please let us know at support@stclairsoft.com.