Default Folder X 5.1.6 Testing
Updated August 17, 2017
This version of Default Folder X supports macOS 10.13 High Sierra (which is currently available from Apple as a beta test release). It also adds the ability to use relative paths for Favorites, and fixes a number of bugs and crashes.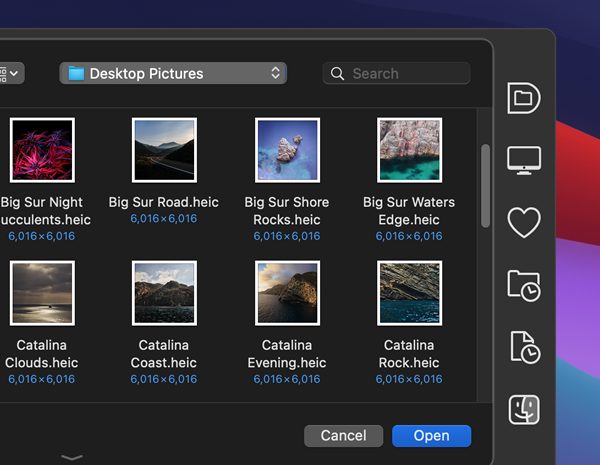 Version 5.1.6b3 contains the following changes:

This version supports the developer release of macOS 10.13 High Sierra.
Updated UI drawing so that things line up correctly on High Sierra and icons are sized correctly.
Correctly handle Open and Save dialogs that appear as floating windows instead of normal modal dialogs.
Worked around a bug in High Sierra that prevented Default Folder X from determining whether a Save dialog was minimized or not.
Fixed crashes caused by High Sierra returning unexpected information from the Accessibility API.
Added a warning about Tencent's QQ chat app because it disables DFX's folder switching feature.
Fixed a bug that could cause Default Folder X to incorrectly remember the last state of a Save dialog.
Corrected UI glitches in Finder-click when using Default Folder X's "Minimal Toolbar" appearance.
The Finder-click feature's "choose the desktop" option now highlights the desktop with "holes" where Finder windows are located.
Icons in the Drop Zone are now loaded when they're needed, eliminating problems with the icons appearing blank when they can't be supplied by QuickLook at startup.
Earlier beta builds introduced these changes:

You can now enter relative paths for Favorites. If you use a consistent structure for organizing projects, it can be very helpful to set a favorite such as "../images/" to go to an adjacent "images" folder and be able to use the same favorite in multiple locations. To enter a relative favorite, choose "Add Path or URL" after clicking the '+' icon in Default Folder X > Preferences > Folders > Favorites.
Fixed a problem with Default Folder X getting confused in certain situations when you clicked on an alias in column view.
Fixed a bug that caused unsaved comments or tags to disappear if you switched from a Save dialog to another application and then back to the Save dialog.
Switching folders using Default Folder X's menus now works consistently in file dialogs brought up when changing preferences.
Added an API that allows software developers to disable Default Folder X for special file dialogs in their Mac applications.
Eliminated flashing in the user interface when you click on a disclosure triangle in a Save dialog.
Corrected improper scaling of preview images that could occur in some circumstances.
Fixed a crash that could occur when clicking on the sidebar in file dialogs.
Worked around a crash resulting from the macOS Accessibility API failing.
Several memory leaks and potential crashes have been eliminated.
Updated Default Folder X's icon.
How to be a beta tester:

In order to beta test, you must have a stable, predictable machine and be willing to commit time to work with us if you discover a bug or conflict. If you encounter incorrect or confusing behavior, please try to summarize what you were doing at the time it happened and supply that along with a crash log or screenshot.
Click below to download the public test version of Default Folder X 5.1.6:

Please note that Default Folder X 5.1.6b3 is pre-release software, and as such, may contain bugs. It has been tested for compatibility on a number of systems, but has not been fully qualified and released. When testing any unreleased software, you should have a backup copy of any important files, since a software bug could cause your Macintosh to crash and lose valuable data.
Don't assume that a bug you've found has already been reported!! Please submit all bug reports and feedback to DefaultFolderX@stclairsoft.com.